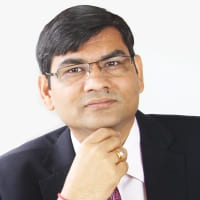 Ashutosh Tiwari
Institute of Advanced Materials, IAAM, Sweden
Dr. Ashutosh Tiwari is a Co-Editor of Video Proceedings of Advanced Materials. He serves as the Chairman and Managing Director of the Institute of Advanced Materials, IAAM & the VBRI Group and the Secretary-General of the International Association of Advanced Materials, Sweden.
Dr. Tiwari is a renowned scientist and technocrat entrepreneur who is dedicated to working in the fields of Materials research, Translational Innovation, and Sustainability. He is a professor and has held a number of professorship titles since 2009. His major contributions lie in the field of innovative sustainability for new-age materials and nanotechnology.
Dr. Tiwari has been conferred upon a number of highly prestigious fellowships- including Marie Curie, The European Commission; JSPS Regular and Bridge Fellow, NIMS Postdoctoral Fellow, Japan; Si, etc. In addition, his significant contributions to Advanced Materials, Nanoscience, and Nanotechnology have led to him receiving several awards and recognitions. He has published as many as 500 articles and has been editor/author of more than 50 books on Advanced Materials and Nanotechnology. He has been the Guest Editor of the Special issue- '2D Materials in Biosensors & Bioelectronics- a leading journal published by Elsevier, Smart Materials for Switchable Sensors in the Sensors, MDPI (Leading open access journal, IF 3.275 in 2019). In addition, he has been Series Editor for Books on the Advanced Materials and Advanced Nanomaterials. Some of his books has proved to be highly popular and successful include: Intelligent Nanomaterials, Biosensors Nanotechnology, Graphene Bioelectronics, Advanced Theranostic Materials, Graphene Materials, Responsive Materials and Methods, Advanced 2D Materials, etc.
Dr. Tiwari is actively involved in the development of new materials, high-throughput innovation, and translational development that can be used in numerous segments and markets. His work on nnovation sustainability ia focused on distributed businesses nurtured by the countryside start-ups cluster. One of the areas of interest for Dr. Ashutosh Tiwari is to translate and cultivate the sustainable methods, cutting-age innovation, new products, and field trials that can transform sectors such as energy, environment, and mass medicine using Cloud and AI-based technology.