Graphical Abstract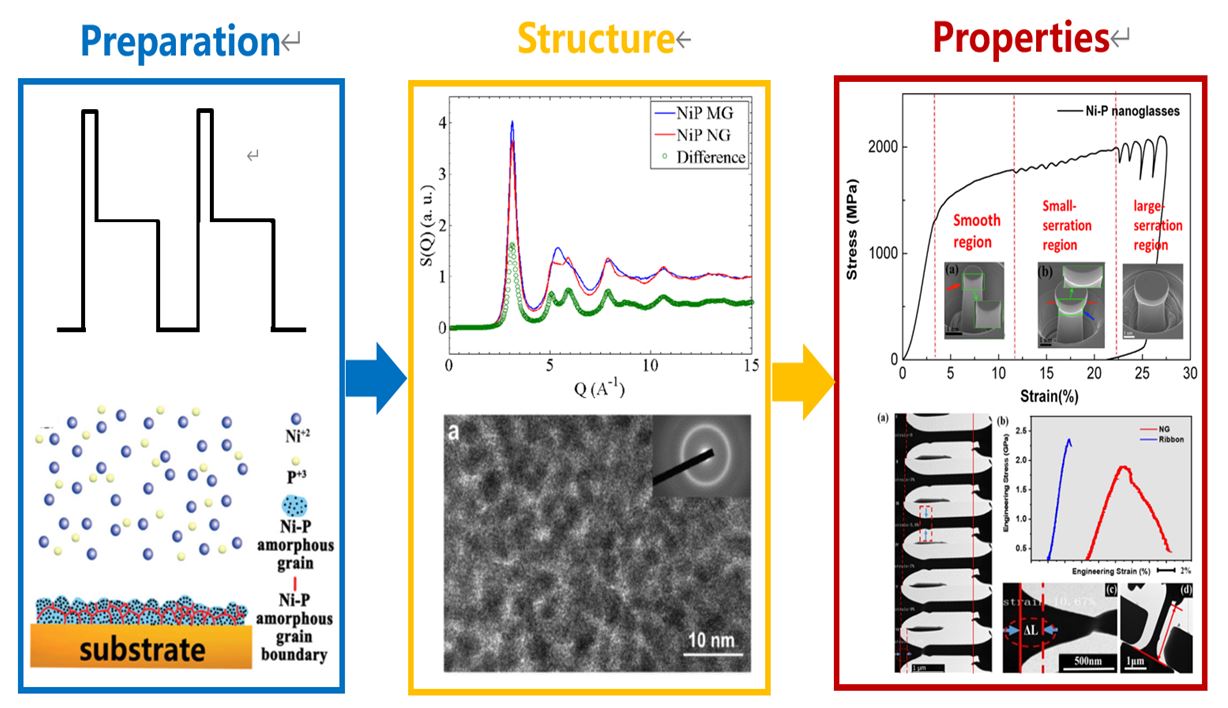 ---
Abstract
---
Nanoglasses (NGs) are a new kind of non-crystalline materials consisting of amorphous nanometer-sized grains connected by amorphous interfaces (called glass/glass interfaces). It has been found that the interfaces have an atomic and electronic structure deviating from those of the adjacent amorphous grains. As a result of the different atomic and electronic structures of the glass/glass interfaces, the properties of NGs differ from the properties of the melt-quenched glass with the same chemical composition. The well-established techniques to prepare NGs are inert gas condensation (IGC) and magnetron sputtering (MS), in both methods the expensive high vacuum system is required. Recently, we developed an economic and efficient multi-phase pulsed electrodeposition (MP-PED) technique to prepare high quality NGs, which has become the third NG preparation method and greatly promotes the development of NG research. In this talk, we will focus on the electrodeposited Ni-P NG, introducing the principle of MP-PED technique, the microstructure characterization of Ni-P NG, and its unique properties. The microstructure of Ni-P NG prepared by MP-PED was studied by high resolution transmission electron microscopy (HRTEM), X-ray photoelectron spectroscopy (XPS), and simultaneous high-energy X-ray small-angle/wide-angle scattering (SAXS and WAXS). The results demonstrate the Ni-P NG prepared by MP-PED has a nanometer-sized microstructure and consists of two non-crystalline phases (liquid-like and solid-like phase) of equivalent volume fraction. We suggest that the formation of the Ni-P NG, which is characterized by inhomogeneity on the nanometer length scale, is achieved via proper control of the rate of cluster formation and cluster growth by a multi-phase pulsed electrodeposition process. The microstructure evolution is investigated by in situ heating synchrotron X-ray diffraction. Upon heating, a structure crossover was observed, where the liquid-like structure transforms to the solid-like structure, as evidenced by the enthalpy release and an anomalous contraction of atomic structure over the medium-range length scale, due to the metastable nature of the liquid-like structure. The Ni-P NG shows a remarkable plasticity in tensile and compression test comparing to the rapid quenched glass with the identical composition. Above results suggest a unique deformation mechanism for the Ni-P NG, which would be different from that of the conventional metallic glasses (MGs).
Keywords
---
Nanoglass, Ni-P, electrodeposition, microstructure, mechanical properties.
Acknowledgement
---
This work was supported by the National Natural Science Foundation of China (Grant No.51571119, 51520105001, 51871120) and the Fundamental Research Funds for the Central Universities (No.30919011404, 30916011106, 30919011107). TF acknowledges the support by the innovation project, Qing Lan project and the Distinguished Professor project of Jiangsu province.
References
---
C. Guo, Y. Fang, B. Wu, S. Lan, G. Peng, X. Wang, H. Hahn, H. Gleiter, T. Feng*, Materials Research Letters, 2017, 5, 293.
S. Lan, C. Guo, W. Zhou, Y. Ren, J. Almer, C. Pei, H. Hahn, C.T. Liu, T. Feng*, X. L. Wang*, H. Gleiter, Communication Physics, 2019, 2, 117.
F. Li, T. Wang, Q. He, B. Sun, C. Guo, T. Feng, Y. Yang*, Scripta Materialia, 2018, 154, 186
C. Guo, Y. Fang, F. Chen, T. Feng*, Intermetallics, 2019, 110, 106480.
C. Pei, R. Zhao, Y. Fang, S. Wu, Z, Cui, B. Sun, S. Lan, P. Luo, W. Wang, T. Feng*, Journal of Alloys and Compounds, 2020, 836, 155506.
Biography
---
Tao Feng received his Bachelor degree in 1999 from Zhejiang University (China) and his Master and PhD in 2002 and 2006 from Shanghai Institute of Microsystem and Information Technology, Chinese Academy of Sciences. He was an Alexander von Humboldt fellow in Karlsruhe Institute of Technology (Germany) during 2010-2012, cooperating with Prof. Herbert Gleiter, the pioneer of nanostructured materials. He is currently a professor of Herbert Gleiter Institute of Nanoscience (HGI), Nanjing University of Science & Technology, China.
His current research interest is the relationship of atomic structures and properties of nanostructured materials, especially nanostructured amorphous materials (or called nanoglasses). He joined the HGI in 2013 and acted as the assistant director of HGI to set up the new institute. In 2016, he won the title of "Distinguished Professor" and "Young Academic Leader" in Jiangsu Province. He developed the most advanced Inert Gas Condensation ultra-high vacuum interconnected system. Based on this system, he has successfully developed varies new kinds of nanostructured amorphous materials including Pd-, Fe-, Ni- based nanoglasses. He also developed the multi-phase pulsed electrodeposition method for preparing nanoglasses, which has become the third preparation technology of nanoglasses after the inert gas condensation and magnetron sputtering. He developed the dual phase mixed nanoglass alloys, which opened up a new field of nanoglass research. He has authored and co-authored more than 80 international peer reviewed journal publications, 15 applied patents, and presented 10 invited lectures at international conferences and symposia.